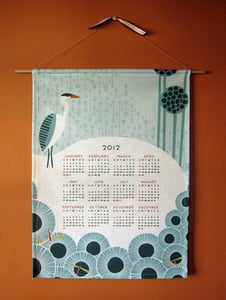 $

23.00
CALENDARS ARE MADE TO ORDER AND CAN TAKE UP TO 1 WEEK TO SHIP. Quantities are limited. Please note the option to downgrade shipping for further savings!
*************************
After 3 years of great success, I am happy to introduce my 4th annual tea towel calendar!
Hang it on your wall and enjoy its pristine state for the year. Made of 55% linen/45% cotton, this towel will serve you years of purpose past 2012. With each washing, it gets more supple and soft and makes an excellent drying towel, though you should expect fading and shrinkage.
Dimensions are 16x20 inches. Comes with wooden hanging rod and strung with baker's twine. Each is rolled carefully in tissue and brown paper to ensure minimal wrinkling, is sealed with a logo sticker and is mailed in a sturdy cardboard tube, nice enough for gift giving.
Made to order.
THIS PRODUCT SHIPS SEPARATELY FROM OTHER ITEMS. SHIPPING CANNOT BE COMBINED.
•••••••••••••••••••••••••••••••••••••••••
IMPORTANT SHIPPING INFORMATION:
I am only shipping calendars Priority Mail with Insurance. This service, though costly, will ensure that both myself and the purchaser are protected. If you would prefer to forego the extra shipping costs (for a savings of $5 US deliveries only), I will gladly refund the cost, however, in doing so, I will not be able to refund/replace your order should it go missing. By electing this option, you agree to these terms. To select this option, please make purchase, add a note in the comment section saying you would prefer standard 1st class mail and I will refund the $5 via PayPal. Of the 200+ calendars I shipped last year, only 3 have gone missing, but that has determined that this is the best course of action to protect both seller and buyer and ensure the package is delivered in a timely manner.
INTERNATIONAL BUYERS- Priority Mail is very expensive however highly recommended as I cannot be responsible for lost items overseas. If you would like to opt out of the PRIORITY MAIL I will refund the difference of the FIRST CLASS amounts via PayPal- please leave a message in the comments section at checkout or email me that you want the refund. By doing this, you agree that I will not be responsible for the loss of your package should it go missing. I thank you for your understanding.
CANADA - PRIORITY MAIL WITH TRACKING = $23 / FIRST CLASS = $9.00 ($14 refund)
EVERYWHERE ELSE - PRIORITY MAIL WITH TRACKING = $32 / FIRST CLASS = $14.00 ($18 refund)